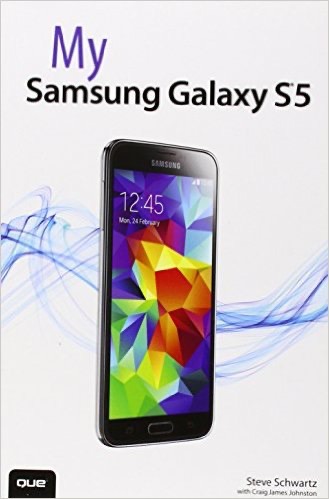 Friendly, quick, and 100% practical, My Samsung Galaxy S5 is the must-have companion for every Samsung Galaxy S5 user. 
Step-by-step instructions with callouts to Samsung Galaxy S5 photos that show you exactly what to do
Help when you run into Samsung Galaxy S5 problems or limitations
Tips and Notes to help you get the most from your Samsung Galaxy S5
Full-color, step-by-step tasks walk you through getting and keeping your Samsung Galaxy S5 working just the way you want. Learn how to:
Quickly set up your Galaxy S5 and master its improved TouchWiz interface

Save time with great features such as Priority Senders, S Finder, and Swype

Personalize the Home screen and tweak system settings to make your S5 uniquely yours

Manage your contacts and create appointments

Reach out to friends with text and multimedia messages

Send and receive email from multiple accounts, including Gmail

Capture stunning photos with the amazing 16MP, HDR-capable camera

Shoot state-of-the-art ultra-high definition/4K videos

Make your phone child-friendly and child-safe with Kids Mode

Never get lost with built-in GPS and Google Maps

Move files over Wi-Fi, USB, or Bluetooth

Reliably synchronize important contact, calendar, and other data

Find great new apps on Google Play, Amazon Appstore, and beyond

Make the most of S Voice and Google/Voice Search, your new "personal assistants"

Check your heart rate and track your personal fitness

Stretch battery life to the max with Ultra Power Saving mode

"Mirror" your phone's display on your high-def TV

Share Internet access by transforming your S5 into a mobile hotspot

Protect your personal data with the new Fingerprint Scanner

Keep your phone safe and secure--and enable it to be found if you lose it

Fix lockups, memory shortages, and other annoyances
Free Online Edition! Purchase of this book includes 45 days of free access to the online edition at Safari Books Online.
Sample chapter, Table of Contents, and Index: Making the Samsung Galaxy S 5 Phone Your Own 
Related article: Using Private Mode to Hide Sensitive Files on Your Samsung Galaxy S5


656 pages, full color
Retail: $24.99 U.S.
Que Publishing, 2014
Siliconwasteland price: Unsigned $19.99; Signed $24.99